Is this not the coolest thing you're seen in a really long time???? Since like 1962. I rescued this beautiful manual typewritter from a Goodwill Outlet (have you been yet?). It was in a bin with all the electronics. The ribbon had been taken out and was tangled with cords, the cover was in another bin altogether, unfortunately I did not find the bottom tray or the carrying case but nevermind. It is a lovely blue & ivory combo and I bought it for that reason. I decided that even if it didn't work it would still be a wonderful paperweight.
Well guess what! This beautiful typewritter actually works. It took a little adjusting and I have to press hard on the keys but it works. I can't wait to start using it with my scrapbook layouts.
Oh and the typewritter only cost me $7. Got to love that.
Carla
I'm going to link to a couple fun sites:
Coastal Charm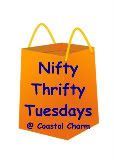 My Romantic Home

Southern Hospitality